Indoor Air Quality Solutions, Indoor Air Quality Products & Indoor Air Quality Services

Othello, WA, Ephrata, WA & Moses Lake, WA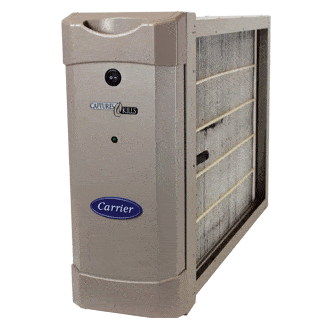 Issues with Air Quality in the Greater Moses Lake Area are no problem for Basin Service. Whether you've got a specific complaint, not sure of the cause, or are taking proactive measures to protect the health, cleanliness, and comfort of your home, we're here to help.
Trusted Indoor Air Quality Improvement Solutions!
Our NATE-certified technicians are trained to provide professional, reliable, and effective service. We draw from the most innovative technology and air quality systems to deliver quiet, efficient, and sustainable improvement. As a Carrier Factory Authorized Dealer, we are knowledgeable and familiar with industry leading, whole-home options to combat any type of challenge.
Top Quality Products For Indoor Air Quality
Guardian Air
Basin Service highly recommends the Guardian Air. This proactive system doesn't rely on contaminants reaching the air handler, but rather transmits ionized oxidizers into the room to head off allergens at the source. Whether in the air or on surfaces, the Guardian Air destroys a wide variety of pollutants before they threaten the health of occupants. This proven technology is in use around the world and by many Fortune 500 companies, hospitals, nursing homes, schools, and more. Approved by the EPA, USDA, FDA, and US Government, the Guardian Air incorporates into the home's central heating and cooling system, tucked entirely out-of-sight. Whenever the HVAC system operates, the Guardian Air generates naturally occurring oxidizers which spread throughout the conditioned air space, killing bacteria, viruses, mold, gases, odors, and more. This active system kills germs before they have the opportunity to spread and threaten your health.
Carrier Infinity Air Purifier
Consider the Carrier Infinity Air Purifier. This sophisticated system goes beyond air filtration, utilizing Captures and Kills technology to actively destroy mold spores, bacteria, and viruses. Silently purifying circulated indoor air up to eight times per hour, it traps up to 95% of particles, then employs an electrical charge to burst the cell of walls of pathogens and kill them. The purifier works in tandem with the HVAC system, and with every cycle of air that passes through, pet dander, pollen, dust, smoke, and a lengthy list of allergens are contained by the filter. Featuring a long-life MERV 15 filter, the Carrier whole-home air purification system has been proven effective against human influenza, common cold surrogate, and streptococcus pyogenes. A narrow cabinet design allows for installation versatility and accommodates nearly any ductwork. Along with improving the health and cleanliness of the indoor environment, the air purifier produces no significant pressure drop, protecting operation of heating and cooling equipment.
Indoor Air Quality Products

∴

Indoor Air Quality Solutions

∴

Indoor Air Quality Services ∴ Moses Lake, WA ∴ Othello, WA ∴ Ephrata, WA

March 4, 2019

2023/09/26