WiFi Thermostat Systems, WiFi Thermostat Installation & WiFi Thermostat Replacement

Ephrata, WA, Othello, WA & Moses Lake, WA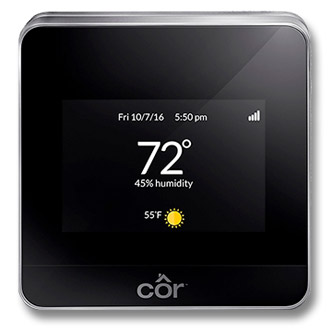 Not only will a modern, WiFi Thermostat handle the management of your HVAC system for you, it will do a better job. These wireless controls accommodate your schedule, automatically adjust to conserve energy, and ensure superior comfort. You don't need to change settings when you leave the house or head to bed. You'll never come home to overheated or chilly conditions. And you can take advantage of alerts for everything from filter changes and power outages to temperature swings and serious issues. Modern, wireless thermostats take excellent care of your home, family, and essential equipment.
Call our team for WiFi Thermostat installations!
Contact Basin Service at 509-350-5258 for further information, helpful recommendations and the installation of the industry's most innovative WiFi thermostats. We offer such convenient features as learning capability, voice commands, zone control, occupancy sensors, energy tracking, energy saving tips, customized displays, and much more. We make sure you choose the ideal WiFi thermostat for your requirements.
If you need WiFi thermostat service or have any questions, don't hesitate to call our team!
Our NATE-certified, highly trained professionals provide quality service across Moses Lake, Ephrata, and Othello, WA. We offer remote access to your heating, cooling, and air quality equipment. Doesn't matter if you're sitting on the couch, stuck in traffic, or off on a vacation. The companion app keeps you in touch, allows changes, and delivers information, all through your smartphone, tablet, or laptop. Where Little Things Mean A Lot… Basin Service exceeds expectations.
WiFi Thermostat Systems

∴

WiFi Thermostat Installation

∴

WiFi Thermostat Replacement ∴ Moses Lake, WA ∴ Ephrata, WA ∴ Othello, WA

March 4, 2019

2023/09/26